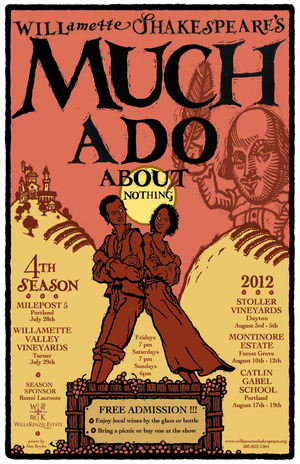 Review of Willamette Shakespeare's
Much Ado About Nothing
(4 August 2012)
When Claudio asks Benedick what he thinks of Hero, Benedick replies, "
And that was exactly how I felt about Willamette Shakespeare's Much Ado About Nothing. It's hard to pin down what didn't work for me. There were a lot of good things about the production, and yet, it fell flat.
Jason Maniccia was one of the highlights. His Benedick was solid, and he looked at home in the part. I could believe in all of Benedick's changing moods – his self-confidence, his mockery, his frustration with Beatrice, his love-induced melancholy and his puppy love. My only disappointment was that he could have made so much more of the eavesdropping scene, but that is probably more director Daniel Somerfield's fault.
Ithica Tell made a smart, sassy Beatrice. She made the 400-year-old puns and wordplays feel fresh and spontaneous and biting. But I could never really buy the bit where Beatrice is in love with Benedick. And unfortunately, most of the rest of the cast didn't play up to her energy level, and so she felt out of place. I would really like to see her in some fast-paced, high-energy productions. I think she would be brilliant.
This production, however, was not fast-paced or high-energy.
Chris Ringkamp's Claudio was eager and innocent and young and in love, but Holly Wigmore's flat performance of Hero gave him nothing to work with. Where Chris really shone was as one of the watch, where he could play more of a comic role, and where the other actors' energy was infectious.
Most of that energy came from Clara-Liis Hillier (Constable Dogberry) and Lauren Modica (Verges) who absolutely stole the show. Every moment they were on stage was a gem. Their timing, their expressions, the way they stayed so wonderfully in character when the focus was not necessarily on them – they were wonderful! And costume designer Clare Parker did a bang-up job with their costumes, too. I particularly loved Dogberry's skunk necktie with the squeaker, and Verges's fez.
Composer and musician Jason Okamoto also deserves praise for his beautiful music (performed by him and Ali Ippolito). It gave just the right flavor and helped create the mood where other aspects failed.
One of the main problems with this production was the timing. Was it really necessary to break up the flow of the whole thing by having stagehands rearrange the benches every scene? It didn't contribute to the sense of location or setting, and it killed what little energy there was in the last scene. If the benches absolutely have to be moved, why not have the actors do it as part of their scene? Another timing issue was that actors would often do their actions and then speak their lines – but not at the same time. Guys? We're not that interested in watching you play a game of lawn bowls. And when the play has a lot of talking in it, you don't want to drag it out any more than necessary.
So timing was a problem. Lack of energy was a problem. Several poor performances contributed to the overall lack of sparkle. In general, I found it a good time to work on my quilt. Which is saying something on a 100-degree day.